MASAI MARA SAFARI GETAWAYS

Safari Highlights: This safari brings you to Mara game reserve which supports the largest diversity of animals and birds, the world's most famous wildlife reserves with the biggest concentration of big five. The cultural visits to the Masai village a proud cattle-herding tribe. Who co - exist along with the animals

SAFARI ITENERARY

DAY 1: NAIROBI / MASAI MARA: Depart Nairobi at 07.30 hrs and drive south with breath taking panoramic views of the Great Rift Valley. Decent and drive along the floor of the rift Valley. Lunch on arrival followed by afternoon game drive where, you will have the opportunity to observe the magnificent game of the African wild in their natural habitat. Dinner and overnight at Masai Mara Manyatta Camp. Meal Plan {L, D}

DAY 2: MASAI MARA: After breakfast, depart with packed lunch and drive to Mara river viewing game which are in thousands. This where the annual migration of over a million Wildebeest and Zebra from the Serengeti in the south crossing the Mara River which is infested with Hippos and crocodiles into Masai Mara game reserve. Following their footsteps are Africa's predators; Lion, Leopard, Cheetah and Hyena. Full day is spent in search of Elephants, Buffalo, Lion, Zebra, Cheetah, Rhino, Giraffes, Wildebeest and other plains' game which include the gazelles, Topi as well as prolific birdlife. The annual migration of the wildebeest is one of the most inspiring Sights on earth, and this is the dramatic life struggle. Dinner and overnight at the Masai Mara Manyatta Camp. Meal Plan {B, L,D}

DAY 3: MASAI MARA : Early morning game viewing when the predators are hunting and return to the camp for breakfast. After breakfast depart Masai Mara and drive back to Nairobi arriving in the afternoon where you will be dropped at your town hotel.

Also optional Hot air balloon ride can be arranged this morning, then proceed with your game drive - $450 per person.

Optional visit to Masai Village for a cultural tour can be arranged - $25 per person.

PRICE: On request

Tel: 0722496558
Maasai Mara Manyatta Camp
The camp is a new concept in the world famous Masai Mara Game reserveBooking can either be on bed only or on full board basis. Guests on full board basis will have 3 meals per day prepared by the resident camp Chef.Guests on Bed only basis can bring their own food to be prepared by the resident chef at no additional cost.
Dining Area
The masai mara manyatta camp dinning area that can hold upto 80 seated guests.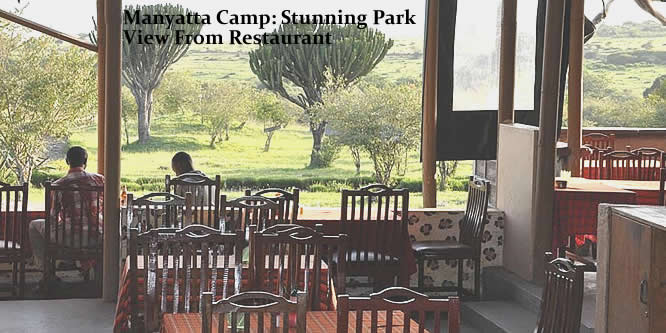 Semi luxury accomodation
Accommodation is on spacious tents, erected on hard surface and covered with"Makduti" to mitigate on harsh weather conditions like heat and rain. The camp has a combination of double or twin beds on sharing basis.The bed capacity is upto 80 guests.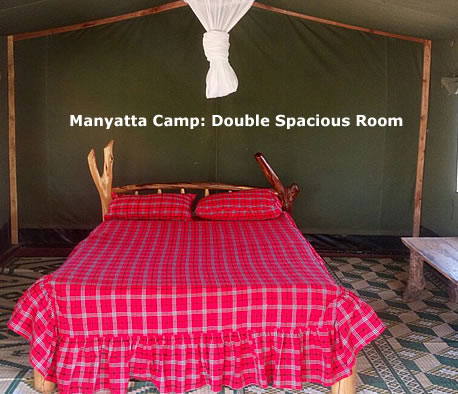 Single occupancy can also be arranged on request. All the tents are en-suite, with built in toilet, hot shower, mosquito nets, electric lighting and power sockets.